Designer Course
---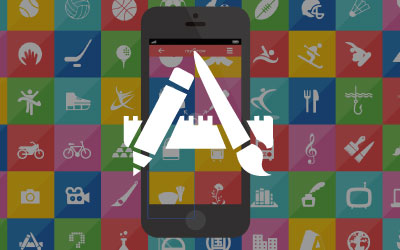 There are rules in making a good design. It's not just about having a good sense, but also knowing how to apply these rules to your creation.
Learn about the basic rules of design, and try your hand at designing various creations, such as flyers, T-shirt or even Mobile Applications!
Knowing how to design creations well is a very useful skill to have. Take this opportunity to learn more about design!
Development requirements:

Adobe Photoshop, Adobe Illustrator

This course is recommended for:
People who are interested in designing your own creations!
Programs
Beginner course:
Seminar Level : for those who are participating our camp for the first to second time.
Let's create original game for using Unity!
Beginner course:STEP1

Learn design rules!

Learn the basic design rules and understand the importance of good design.

Beginner course:STEP2

Create a flyer with Adobe Illustrator!

Create a flyer for your school, CCA or class.

Beginner course:STEP3

Learn about UI/UX and make application layouts!

Learn to design mobile/web application layouts.
Advanced Level
Level : for those who are participating our camp for the second to fourth time.
Try to publish the original site up a notch !
Advanced LevelSTEP1

Make your own creation, Publish, Print and Order!

※ You'll need to print and publish your creation at your own expense.
※ You can try designing creations for your classmates from other courses!
Time Schedule
5days camp
Day
Curriculum
1
AM:Learn about the basic rules of design
PM:Learn about Font, Pass and Photo processing
2
Create your own flyer
3
AM:Create Logos
PM:Learn about UI/UX
4
Design application layouts
5
AM:Finalize of design creation
PM:Presentation
3days camp
Day
Curriculum
1
AM:Learn about the basic rules of design
PM:Learn about Font, Pass and Photo processing
2
Create your own flyer
3
AM:Finalize of design creation
PM:Presentation